Welcome to RAPTOR Gaming Furniture
Step into a world where your gaming dreams come to life. Welcome to RAPTOR, where gaming meets innovation, and comfort meets style. We're thrilled to have you here, and we can't wait to show you how our gaming furniture will redefine your gaming experience.

Explore our collection, find the perfect pieces for your gaming setup, and get ready to level up your gameplay. With RAPTOR, you're not just getting furniture; you're unlocking a new realm of gaming excellence. Welcome aboard, fellow gamer. Your throne awaits!

Fast shipments
Order today, receive in 2-3 days
Awesome Support
We have a great support team that is always ready to assist.

2-Year Warranty
We offer a two year hassle-free warranty on everything.
NEW ARRIVAL ❤️
Discover our brand new Raptor gaming chair GS40: stylish, comfortable and affordable! For only 129 € you can now get the perfect addition to your gaming experience. With elegant black and white or eye-catching black and red, our gaming chairs are ready for any challenge.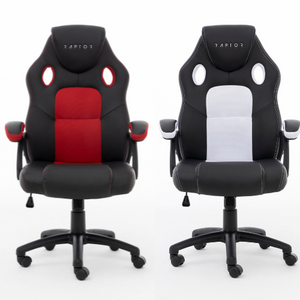 Level Up Your Connection: Get Ready for a Social Media Power-Up
Exciting news, gamers! 🚀 Brace yourselves for a new era of connection and updates. We're turning up the volume on our social media presence. 🎮 Follow us for exclusive sneak peeks, gaming tips, and community highlights. Let's level up together! #RAPTORGAMING #StayConnected





RAPTOR GAMING - sooner or later we get U
Crafting Gaming Comfort: Furniture Tailored for the Ultimate Player's Lounge
OUR MISSION
At RAPTOR, our mission is clear and unwavering: to empower gamers with exceptional gaming furniture that elevates their performance, fuels their passion, and enhances their gaming lifestyle.
We believe that gaming is more than a pastime; it's a culture, a community, and a way of life. It's the realm where friendships are forged, skills are honed, and unforgettable stories are written. Our mission is to contribute to this vibrant gaming world by creating furniture that not only meets but exceeds the expectations of gamers worldwide.
Our Commitments:
Elevating Performance:
We are dedicated to crafting gaming furniture that enhances your gameplay. From ergonomic chairs that support your body during marathon sessions to meticulously designed gaming desks that optimize organization, we're committed to helping you reach your peak performance.
Fueling Passion:
We understand the boundless passion that drives gamers. That's why our products are born from a deep love for gaming, and we infuse every piece with the same passion that fuels your gaming journey.
Enhancing Lifestyle: Gaming is a lifestyle, and we aim to make it even better. Our furniture not only caters to your gaming needs but also complements your space with style and functionality.
Community-Centric:
We are gamers ourselves, and we know that the best products are created in collaboration with the gaming community. We actively seek feedback, engage with gamers, and continually evolve our products to meet your evolving needs.
Quality and Sustainability:
Quality is non-negotiable for us. We use the finest materials and uphold the highest manufacturing standards to ensure our furniture is built to last. Additionally, we are committed to minimizing our environmental impact through sustainable practices.
At RAPTOR, we're not just creating furniture; we're creating an extension of your gaming identity. Our mission is to be your trusted partner in gaming, providing the tools you need to thrive, conquer virtual worlds, and experience gaming like never before. Together, we'll redefine gaming furniture, one innovation at a time, and continue to fuel the passion that unites us all in the world of gaming.
Get 10% OFF your order
Subscribe to get a 10 % Discount Code
We will inform you about promotions and new products! No SPAM! Promised!